Bread and Bakery Industry
Durable. Dense. Decorative.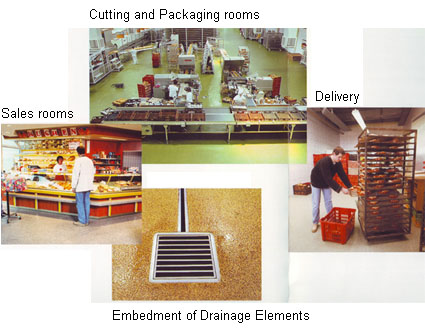 Although Reactive Resin Floorings can be installed on a wide variety of substrates, their long-term functionality depends as much on the quality of the materials as on the quality of surface preparation and on the professional knowledge of the applicator. Attention to detail is the key to success.
These details require skilled and experienced contractors for execution of the work. Proper surface preparation prior to any overlay work is a must. Depending on the conditon of the existing floor surface, a complete and effective resurfacing and/or repair job may consist of a combination of different preparation methods. The flooring itself is composed of several layers and components, each with different functions and performance criteria.
Typically, the existing old surface undergoes mechanical roughening, preferably by shot-blasting. Equally important is degreasing and cleaning to secure a proper bond between coating and substrate.
The reactive resin coating itself is anchored to the surface by a primer, if necessary followed by a scratch coat or a quick-setting levelling mortar; sometimes even by an additional membrane waterproofing layer. Important is proper positioning of drains and fluid intakes, in order to safeguard the correct incline of the seamless flooring layer for water and other liquids to run off smoothly from the skid-resistant surface. A dual-layer transparent top coat adds the finishing touch and provides an easy-to-clean, hygienic surface.
Such demanding work should only be awarded to specialized firms with many years of experince and practival know-how. Our "Technical Sales Department – Degadur" will gladly assist in bringing together potential users of Degadur floors with leading floor-laying experts in their specific country or region. Our Technical Sales Department can also provide appropriate specifications for floorings involving Degadur in the bakery industry and in food processing areas.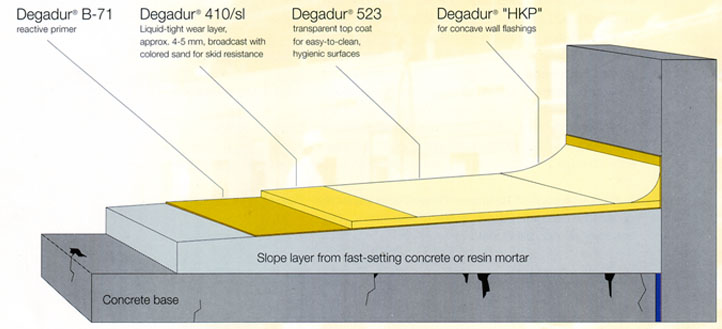 Minimal Downtime: same day access!
Easy to Clean: since seamless and impermeable.
Skid-Resistant Surface: by international standards and OSHA regulations.
High Chemical Resistance: against oils, fats, acids, and cleansers.
Suitable for Freezer Floor Repair: if necessary as low as -30°C/- 20°F