Restaurants, Hotels and Fast Food
Hygienic. Anti-Slip. Attractive and Sealed.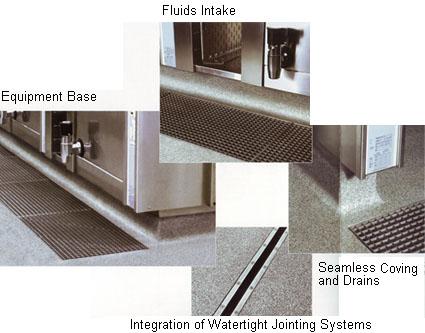 A professional installation of a durable and trouble-free DEGADUR floor does not end with the horizontal surface. The life span and long-term functionality of a high-performance flooring system depends as much on the quality of materials as it does on the qualifications of the applicator. Attention to detail is the key to success.
This is particularly critical for fooring areas around drains and sewer intakes, connections between horizontal and vertical surfaces (covings), cross-overs to ramps and to other flooring materials (like tiles), joints and seams within horizontal surfaces and protective claddings along vertical areas.
These details require skilled and experinced contractors for the execution of the work. Proper surface preparation prior to any overlay work is a must. Depending on the condition of the existing floor surface, a complete and functional resurfacing and/or repair job may consist of a combination of several layers and components, each with different functions and performance criteria.
Therefore, such important work should only be carried out by specialist companies with the necessary expertise and with skilled and knowledgeable personnel.
Rohm GmbH will gladly assist in bringing together potential users of a Degadur floor with the leading floor laying experts in any specific country or region. Furthermore, our Technical Sales Department can provide appropriate specifications for flooring work involving Degadur systems in foodstuffs processing, food preparation and catering areas.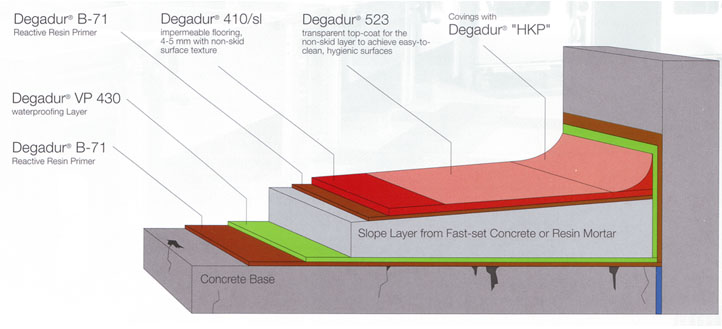 Minimal Downtime: same day access!
Easy to Clean: seamless and impermeable.
Skid-Resistant and Decorative Surface: in accordance with international standards and OSHA regulations.
High Chemical Resistance: against organic acids, oils, fats, and blood as well as detergents and cleansers.
Tested and approved: under international rules for Foodstuff Hygiene. Certified by independent labs.
Suitable for Freezer Floor Repair: if necessary as low as -30°C/- 20°F